Forging Futures was our first ever Design and Retail Course for unemployed young people, it took place in Thanet in April 2014. In collaboration with the retail department of Turner Contemporary, 10 young people took part in an innovative project to research and design hand made products for the shop.
The project was a pilot to test a self sustaining model for creative industries training. Sales of products designed at the first course would fund the next round of training for young unemployed people. The goal being to eventually remove the need for external funding, it also offers organisations the opportunity to divert supply change expenditure to an education programme.
As a first stage, we had planned to design prototype products but were all surprised when the products presented to the retail staff at a Dragons Den event were all commissioned to go on sale in time for the Summer of Colour Festival.
Young unemployed people from Thanet were paired with young designers, and alongside the Future Foundry team undertook a series of activities to learn more about Thanet and Margate as well as gain valuable knowledge and skills – in design, making, product design and retail.
An intense six weeks of research, workshops, experiments and exploration enabled the team to design a range of products that would reflect Margate and offer something new to visitors with the added bonus of introducing the young people involved to the work of Turner Contemporary.
Products designed included a papermaking kit, a lighthouse kit and an origami pirate ship kit. Other ideas included a 3D printed windmill, Isle of Thanatos designs and hand printed mushroom paper cards!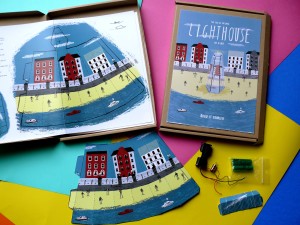 Workshops included a session with the 
Canterbury Archaelogical Trust

 exploring the Anglo Saxon history of the island; foraging, papermaking and using locally found materials with Fergus Drennan from the 

Foraged Book Project

 and screenprinting and product design with Emrys Plant from 

Block Colour

. The groups learned about the complexity of retail in some fantastic sessions with Alice Marsh, Retail Manager at Turner Contemporary and Katherine Walsh, Buyer & Merchandise Manager for the Southbank Centre and a trip to the Science Museum added some fun.
The team came up with a name for their new range of creative and educational products – Wantsum Works, named after the channel of water that once separated Thanet from the mainland.
The project was created by Future Foundry, funded by Arts Council England, UnLtd and Kent County Council and delivered in collaboration with Turner Contemporary.