Working With Us
Regular and Event Markets to showcase student talent and bring innovation and visitors to local markets and town centres. Training programmes in market trading, production, presentation and selling to support our students, unemployed and homeless young traders.
Events
Markets are currently taking place every third month at Westgate Hall in ...
Future Foundry were funded by Arts Council England and organisations across Kent ...
On a fabulously sunny Saturday by the sea our Grayson Perry inspired ...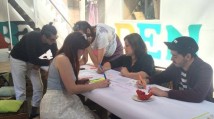 Following a successful two years of monthly markets we have been evaluating ...
Three more amazing markets in Canterbury City Centre filled with work from ...
We're over the moon to announce that Canterbury City Partnership are funding this ...
The Student Makers Market took part in this years Cheriton Light Festival on ...
The Student Makers market returned to Iron Bar lane in Canterbury for ...
Sorry, no posts matched your criteria.